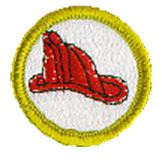 FIRE SAFETY MERIT BADGE
A Constellation District Program offered in conjunction with the Lower Merion Township Fire Department
There is nothing more dangerous and potentially damaging as fire. The ability to harness its power and use it for our benefit is one of the most important steps man has taken. Knowledge of how to keep fire safe, extinguishing unexpected flames, and the use of preventive measures to avoid unintentional fires is what this badge is all about. You will get hands-on practice putting out a fire!
Requirements:
Ø You must download and print and complete the merit badge workbook from the following link: http://meritbadge.org/wiki/images/8/87/Fire_Safety.pdf
Ø To gather information for filling out your workbook, consult the Fire Safety Merit Badge Pamphlet and also the external links section of http://meritbadge.org/wiki/index.php/Fire_Safety#Requirement_resources
Ø Your Scoutmaster or other designated leader MUST initial your workbook to certify your knowledge of requirements 10 B, C & D and requirements 7A, B & C prior to October 25th .
Ø Requirement 6 MUST be completed at your home prior to October 25th.
Ø Please wear your uniform to the fire station on October 25th.
Ø Bring a blue card with your name, address, and Troop number filled in.
Ø Bring your completed workbook to the Gladwyne Fire Station on Saturday October 25th at 8:15 AM and attend the program, which will conclude around 11 AM. Unit leaders and/or parents are welcome to stay and observe.
Location:
Gladwyne Fire House. 1044 Black Rock Rd, Gladwyne.

Date & Time: Saturday October 25th 2014 at 8:15 AM

Registration: Is REQUIRED and limited to 40 participants.

Please contact Jim Hasselman at Constellation.BSA.Program@Gmail.com for information about this event.

The Constellation District and the Boy Scouts wishes to thank the Township of Lower Merion and the Fire Marshals Office for making this program possible.

** NOTE ABOUT THE REGISTRATION FORM *

After clicking on "Register" at the bottom of this page, you will be taken to the Participants page.

On the Participants page, click on "Add New Participant", enter your name, phone #, email, address, then "Continue" and enter the required information and then "Continue" to the Shopping Cart page and "Checkout" to the Checkout page and choose "Continue without signing in".

On the Order Summary page, you DO NOT have to re-enter you name, phone #, email address. If you click on the FIRST OR LAST NAME block, you can select your name from the radio button popup and it will automatically re-populate the information that you previously entered. Click the checkbox and "Save" to complete the registration.