University of Scouting 2013
Saturday, November 2, 2013 (8:00 AM – 5:00 PM)
This is the premier training opportunity for all adult volunteers!
Do not miss out!
New courses have been added & favorites are returning!
Approximately 50% of the 2013 courses were not offered in 2012!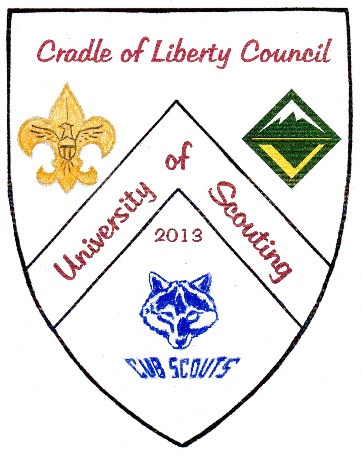 Location: Valley Forge Military Academy & College
1001 Eagle Road
Wayne, Pennsylvania 19087
Directions: http://www.vfmac.edu/campus-visit-us/campus-visit-us-directions/?template=visit-academy
The University of Scouting is a supplemental training opportunity for all adult Scouters. It is the only time during the year where you can find, all in one place, the widest variety of training opportunities in all program areas: Cub Scouts, Boy Scouts, Venturers as well as District and Council Volunteers. Whether you are new to the program or a veteran of years, the University provides interesting courses in all areas of Scouting, including Position Specific Training.
Lunch is included and everyone attends the informative midway with our Program Partners.
Please distribute the attached flyer to Scouters and parents. Let everyone know about the University of Scouting, click here to download flyer
2013 Course Offerings, click here
2013 Course Catalog, click here
2013 Den Chief Training Flyer, click here
Early Bird Fee: $20 (Registrations submitted before 11:55 PM on 10/15/2013 will receive a $10 discount.)
Registration Fee: $30 (online registration ends at 11:55 PM on Tuesday, 10/22)
Instructor/Staff Discount: $5 off the current Early Bird Fee or Registration Fee for a charge of $15 or $25, respectively.
Register Now !!
No email or phone registrations will be accepted after October 22.
Walk-Ins will be accepted with the caveats that lunch, a patch and desired courses cannot be guaranteed.
Important !!
Please use the University of Scouting Course Catalog to build and finalize your course schedule before you start the registration process. This will help to avoid any processing delays.
Any questions, please contact Stephen Dominski at IK-Slop@msn.com